Frequently Asked Questions
Prints & Artwork
I offer 3 types of prints for my artwork and they are intended for 3 different situations:
Stretched Canvas – My stretched canvas option is intended for purchases within Canada & USA and is always my strongest recommendation as it arrives ready to hang in your home or business without any additional fuss or cost of framing. Although, you do have the option of adding a floating frame to this type of print if you desire. Lastly, this print option is the closest in format to my original artworks as all of my original paintings are completed on stretched canvas!
Rolled Canvas – This option exists mostly for my overseas customers residing outside of Canada & USA as it is very costly to ship a stretched canvas overseas. I have priced this option accordingly to allow budget for you to have the canvas stretched locally by a professional framer. This option can also be trimmed and framed with or without glass if you so desire.
Matte Art Paper – This is the best option if you intend to frame the print that you are ordering no matter where you reside. It arrives with a white border to allow for matting by your framer or the white border can be trimmed if you find a frame or have a custom frame made that fits the exact size of the artwork. Unlike the rolled canvas this type of print should not be framed without glass as it does not have a varnish protective coating like my canvas prints do. Also, just like the Rolled Canvas this option is priced cheaper to allow some budget for framing.
Giclée (pronounced zhee-clay) is a standard for fine art reproduction. For an art reproduction to meet the standards to be able to use the name giclée there are four characteristics that it must abide by:
Printing material: The printing material must be 100% archival. That said there are many different types of materials that are available for giclée printing e.g. canvas, matte paper, gloss paper, velvet paper, watercolour textured paper and specialty artisan paper.
Ink: The ink used for printing must be pigment ink (not dye) and there must also be at least 8 different colored pigment inks used in the printer.
Resolution: The original artwork has to be professionally scanned at a minimum resolution of 300dpi to maintain image sharpness in the final print.
Printer: The printer used must be a wide format ink jet printer.
Fine art giclée prints have become the print method of choice for artists, professional photographers, publishers of fine art, and museums who demand high quality fine art reproductions.  Prominent art museums such as the Museum of Modern Art (MoMA), the Guggenheim, Smithsonian Institute, and the Metropolitan Museum of Art have hosted exhibitions featuring fine art giclée prints.
Keep your print away from direct sunlight, or intense reflected light from mirrors, glass, etc.
Display your canvas print in a moisture-free environment.
Display your canvas at a safe distance from any sources of direct heat such as a fireplace or radiator.
Run a soft feather duster over the front and top of the piece periodically to remove settled dust.
Avoid using any form of liquid, chemical or spray products to clean your canvas.
For marks on the print, you can use a soft damp cloth to rub very gently over the area affected.
The flexibility of canvas material means that it can sometimes get dimpled, whether from handling or in transit during shipping. To remove these dimples, spray a mist of water on the back of the canvas. Then, either with a finger or paintbrush, gently rub the water into the surface of the canvas. Allow the canvas to dry and tighten to its original tautness.
Remove all the tape that was used for packaging. Even the smallest piece can find its way to your print and damage the surface or affect the PH of the paper.
Handle the print only by the edges, preferably with clean white cotton gloves. The oils from you hands can affect the PH of the paper and reduce the archival qualities. Fingerprints on dark areas will show up as sheen.
Keep moisture or condensation from getting on the print. Although the ink is somewhat water resistant, water can still cause damage. A water drop on the print surface will be permanently visible when dry.
When framing, use only archival (acid-free) supplies. Wood frames treated with chemicals or paints can omit harmful gases that can attack the ink and paper.
Do not use the cardboard materials your print arrives in for long-time storage, they are not archival.
For maximum print longevity frame your print behind UV resistant glass.
Exhibiting a print in constant bright sunlight, or in a setting that might have chemical outgassing such as from freshly painted walls may cause fading or discoloration.
Ask your framer for an archival framing solution.
Stretched (gallery wrapped) canvas is one where the canvas material is stretched onto stretcher bars (wooden frame) usually between 1.25-1.75 inches deep (mine are 1.5 inches deep). This modern display gives an extra dimension to the artwork as it wraps around the sides of the canvas and can be hung without the need for a frame. Although, if you desire there are framing options available for a gallery wrapped canvas, they will usually be called a floating frame and will not use any glass to cover the artwork.
Unfortunately, I am only shipping stretched (gallery wrapped) canvas to Canada and the continental US at this time. If you desire a gallery wrapped canvas and you do not live in Canada or USA you can order a rolled canvas print and have it hand stretched by a framer in your home city/town.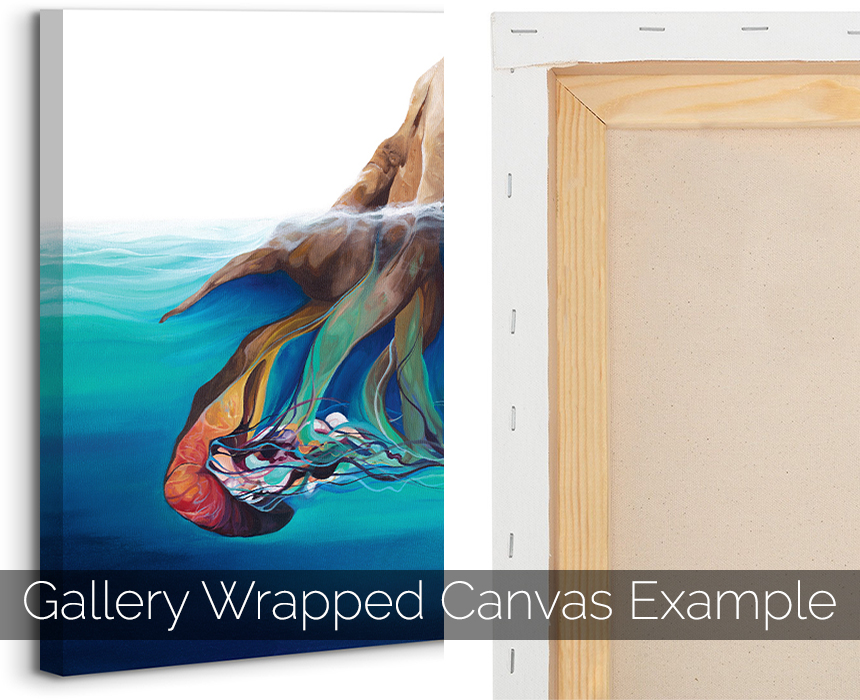 Rolled canvas is canvas that has not been stretched onto a frame, it will arrive rolled up ready to be stretched or framed. You will need to find some one locally to stretch the canvas onto a frame if you would like it to be stretched, or alternatively it can be framed with or without glass.
For my customers living outside of Canada and the continental US this is my only option for printing on canvas.
To find a canvas stretching service locally a quick google search with the search terms "canvas stretching near me" should yield some fruitful results.
Yes, you can order a custom sized print but it will be constrained to the same width to height ratio as the original art piece to preserve the fidelity of the original artwork.
For a free quote you can use my contact form. I will need you to provide me with the width or the height you desire and the art piece you have in mind and I will get back to you as soon as possible!
If you would like to inquire about an original please contact me using my contact form. I will need the name of the piece in question and your mailing address so that I can provide you with a full quote for the original piece and how much it will cost to ship to you.
Every electronic device displays colors a little differently. For example, there can be a vast difference between how your phone displays colors compared to how your computer screen displays colors. Due to this factor prints may not look exactly how you see them online, but rest assured that I have made sure my prints are matching my original artwork as closely as possible.
That said, in the very unlikely scenario that you receive a print that you think looks like a mistake, please get in touch using my contact form and describe the issue as best you can along with quoting your order number.
If you have received a misprint, then I will replace it free of charge!
Shipping
Currently prints are made to order and depending on what you order the typical lead time is different.
Stretched (gallery wrapped) Canvas prints have a typical lead time of 10 business days until they are shipped. (It takes time for the ink to dry, then varnish to dry and then to stretch the canvas)
Paper and Rolled Canvas prints have a typical lead time of 6 business days until they are shipped.
Stretched (gallery wrapped) Canvas Prints: Canada & continental US.
Rolled Canvas Prints: Globally
Paper Prints: Globally
Originals Paintings & Drawings: Globally
I do all of my printing here in Canada. My main print supplier also has a logistics facility in New York state. Orders shipped to Canadian customers are shipped from Canada, and to US customers from New York state. No import fees or local tax for US customers.
If your mailing address is located outside of Canada or the US then you will be responsible for any import duties or taxes incurred upon delivery.
When your package has been shipped (6-10 business days after you placed your order) you will receive an email from me with your tracking number.
If it has been more than 15 business days since your order and you have not received your tracking number please get in touch.